In follow-up to our previous post, here's additional insight on what we at Buzzient are seeing in Telecommunications, especially a drumbeat of demand for Social CRM with Oracle applications.  The characteristics of this demand are:
Global:  The companies organically contacting Buzzient are from all over the world, most notably from Asia, Latin and Central America, and Europe.  In these geographies, new networks  are being built to accommodate the ever-growing middle classes.
Out-of-the-Box Social Applications: At the same time as new consumers are coming online, new mobile/social applications  are being deployed . As a result, the carriers have to monitor and analyze social media as a necessity in customer care.
Legacy CRM applications are the norm: Despite the ongoing drumbeat of deploying cloud-based software, even the emerging market carriers often have legacy CRM assets. Net new applications might have a cloud flavor, but no one is in a hurry to throw away their legacy assets. As a result, the vast majority of the carriers are still using Oracle Siebel CRM, with no plans to upgrade to Oracle Fusion. Salesforce is of interest, but not in the "core" operations in customer care and the contact center. Salesforce is of interest more so in the "edge" applications in marketing.  We've seen anywhere from a 3:1 to a 10:1 ratio between the number of Siebel users vs. Salesforce users in these accounts.
The result is a pipeline of interesting opportunities where we at Buzzient believe we can make a real difference. Our mission of bringing social data to life in enterprise applications is being received very positively, and reinforcing our original vision.
As an example, here's what a major Asian telecoms carrier used to describe how they would use Buzzient for Social CRM as well as for driving marketing analytics and loyalty programs. Buzzient's ability to seamlessly integrate social data with their existing Oracle applications enabled them to see very rapid value, as well as enhance their customer experience offerings in a very competitive market: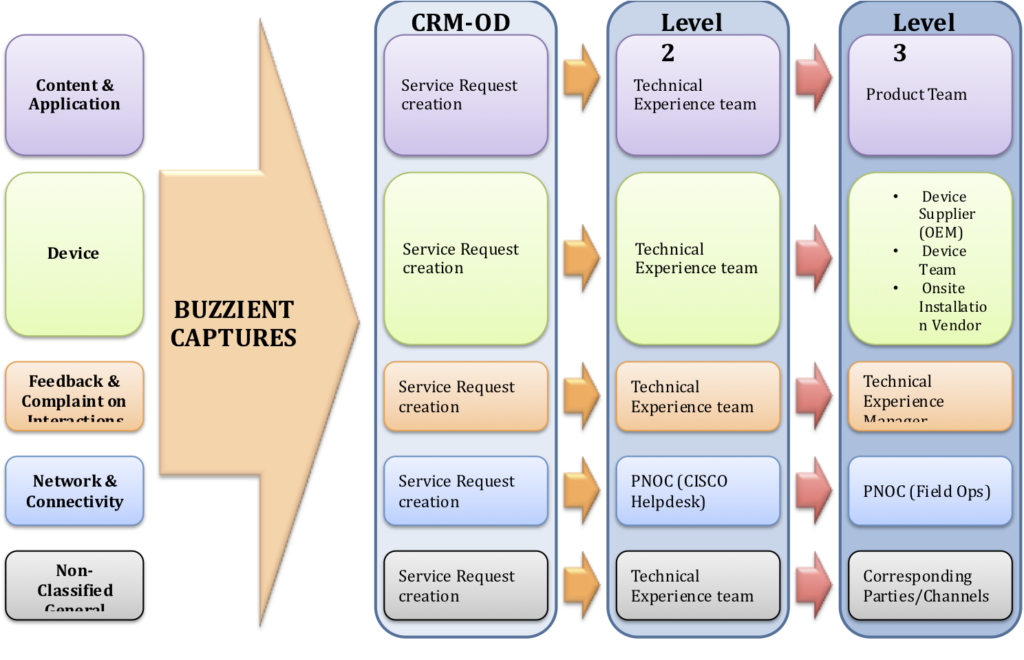 Not only can Buzzient be used to provide a social media feedback look on how well the carrier's brand is perceived, but enable customer care to identify and respond to specific problems with applications and devices, all from within the Oracle CRM application.  This provides the carrier with invaluable information as to which applications serve their customers best, as well as which devices they should subsidize.  All of this adds up to cost savings in customer care, reduction in churn, as well as valuable segmentation and revenue-generating marketing data.
The biggest reason why these carriers are choosing Buzzient for Oracle CRM? It's available TODAY for applications they already own, vs. someday in the future for new applications Oracle is trying to get them to buy. At the same time, Buzzient provides a vendor-agnostic "insurance policy"; Siebel users can use Buzzient today, but also migrate in the future to Salesforce, Zendesk, NetSuite and soon other apps, keeping the social data intact across vendors.